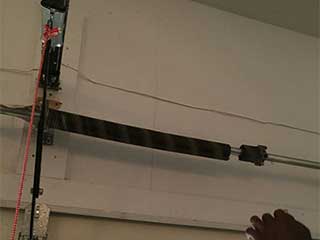 Something is bound to go wrong with your garage door in a 7-8 year-long lifespan, especially when you consider you open and close it 4 or 5 times a day. Usually, the first thing to break are your springs, which are the number one source of calls garage door service providers receive. Most doors operate via an either single-spring or a two-spring system with torsion and extension springs being the most popular types. Your damaged springs should never be replaced or repaired by an inexperienced individual or a DIY project, this is a job for a professional technician. You can recognize a broken spring by the following signs.
A Loud Bang
By far the easiest way to know you have a broken spring is a loud bang noise coming from the garage. When a spring breaks a lot of energy gets released and converts to sound. Unless your teenager has been a little careless with your family car and banged the door, there isn't much more that can cause a sound this loud.
The Door Lowers Too Quickly
If your door opens with a normal speed but closes quickly, it might be because one of your springs has snapped and the whole of the weight is controlled by the second spring. It is important not to take your chances with opening the door as each movement carries a risk of further damage.
You might also notice that the door doesn't move steadily as it used to do. This could also be because there is only one spring left to control the door and it struggles with keeping its balance.
You Notice a Gap in Your Torsion Spring
An easy way to find out if you have torsion or extension springs is to look above your door. If your springs are visible, you have torsion springs. Check for gaps along the springs, some 2 inches in size, as they will indicate your spring is broken. It is always the best practice to replace both springs in a two-spring system. This is because the other spring has likely gone through a lot of pressure by doing the work for both springs, which might result in it breaking soon, too.