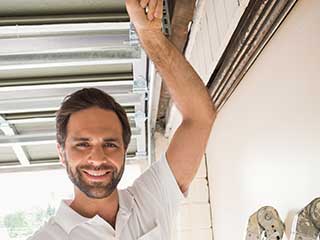 Dealing with a garage door problem can be no only complex, but extremely dangerous as well. Many of the moving components involved in the operation of these systems are under a lot of tension, and can cause severe injuries when mishandled. That's why you should always contact our team when you suspect, or know for sure, there's a problem.
Fixing Your Opener
The opener is essentially the "engine" of your automatic garage door. In fact, it is this very unit that allows it to be "automatic". That means a lot of different mechanical and electrical issues can occur, all of which will demand the attention of a qualified expert. Our technicians can repair broken motor gears and malfunctioning circuit board, and we'll effectively make sure your opener doesn't give you any more hassle.
Straightening Bent Tracks
The track that guides the movement of your overhead door can suffer from dents and blockages that could render the system inoperable. When you find yourself faced with such a problem, your best course of action would be to call up our team. We'll clear out the track and make sure it is properly realigned and repaired. If the damage proves to be too severe, count on us to replace it on the spot.
Damaged Door Panels
It's not impossible to assume that at some point in time your garage door itself could be damaged by some outside factor. Whether if it's a person or a vehicle that accidently hits it or strong weather conditions that cause the damage, the problem needs to be solved quickly and efficiently. Our team can replace your impacted panels with matching ones that will preserve the functionality and appearance of your door. If you have a sectional door, you'll be glad to know that most likely only the affected panels will need to be replaced.
We're Here For You
Contact our team at Garage Door Repair Plainfield for any related need you may have. Remember, never try to perform any repairs by yourself. That's what our experts are here for. Call us today.
But wait, there's more! We also offer:
Part Replacement & Repair
Remote Opener Clicker Replacement
Torsion Spring Adjustment
Liftmaster & Genie Garage Door Openers